Probiotic glycerine soap Mariah's Face young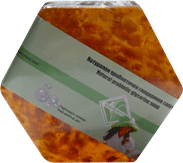 • A soap for soft and delicate cleaning of the skin.
• The probiotic with Lactobacillus bulgaricus feeds up the skin and protects it from inflammations.

Ingredients: (INCI): Sorbitol, Propylene Glycol, Aqua, Sodium Stearate, Sodium Laureth, Sulphate, Sodium Laurate, Sodium Laureth – 13 Carboxylate, Sodium Chloride, Glycerine, Caprilic/ Capric Triglyceride, Tetrasodium EDTA, Probiotic, Lactobacillus bulgaricus, 21 amino acids, Young.