For worn out and devitalised skin, skin under stress and outer aggressions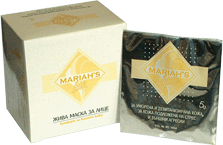 • It removes the marks of stress and fatigue.
• Ensures energy and vitality.
• Eliminates toxins.
• The skin is protected from canceregenous growths.
• The skin is restored and flexed.
• It restores its vitality and shine.
• The face has a satin brilliance.
Intensifies the natural defense system of the skin and has anti-cancerogenous action. It is used once or twice a week (possible to be used daily).
Pour the powder from tha packet in the tub. Stir with one tablespoon of cool water until the mixture becomes homogenous. Paste the mixture evenly on the forehead, face and neck. Leave the mask to act for 25-30 minutes until a film is formed. Remove by dry rubbing. If you wish you may wash your face with cool water.

No contraindications and side effects.
It is advisable not to wash the skin for several hours after removing the mask since a special stain of Lactobacillicus Bulgaricus continues protecting the skin from tumor growths. The simultaneous taking of Lactoflor probiotics intensifies the effect on the whole organism.