Face mask for rejuvenation of the skin - anti-wrinkles, change in the skin tonus, dark stains and dark circles under the eyes.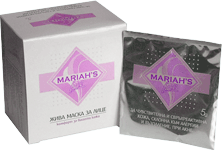 • Tightens and smoothes the skin.
• Removes wrinkles and prevents their appearance.
• Restricts and removes the dark stains and dark circles around the eyes.
• The skin becomes smooth and restores its tonus.
• The skin is tightened and rejuvenated.
• The face lines are softened.
• The appearance of dark stains and circles is restricted.
It is used once or twice a week.
Pour the powder from the packet in the tub. Stir with one teaspoon of cool water. Paste the mixture evenly over the wrinkles zone-eyes, mouth corners, neck and over the stains and dark circles. Leave the mask to act for 50-60 minutes until a film is formed. Remove it by dry rubbing. If you wish you can wash the face with cool water.
Contra-indications - allergy to rose oil.
It is advisable not to wash the face for several hours after removing the mask since the rose oil continues to act. Taking simultaneously 1-2 capsules Lactoflor hepatobion probiotics daily intensifies the effect of the mask.