For combined, problem or oily skin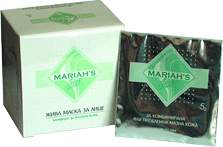 • Regulates the sebum secretion.
• Removes gloss.
• Erases the imperfections and inflammations of the skin.
• The skin is perfectly clean .
• Its balance is restored.
• The tan is made even, the gloss is removed.
It is used once or twice a week (possible to be used daily).
Pour the powder from the packet in the tub.
Stir with one teaspoon of cool water until the mixture becomes homogenous. Paste the mixture evenly on the forehead, face and neck. Leave the mask to act for 25-30 minutes until a film is formed. Remove by dry rubbing. If you wish you may wash your face with cool water.

No contraindications and side effects.