For dehydrated or dry skin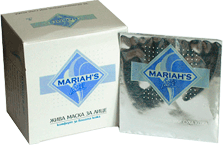 • Cleans the skin.
• Moisturises and feeds the skin.
• Strengthens its natural defense.
• The skin becomes smooth and elastic.
• It gets deep cleaning and hydrating.
• It restores its stain smoothness.
It is used once or twice a week (possible to be used daily).
Stir with one teaspoon of cool water until the mixture becomes homogenuous. Paste the mixture evenly on the forehead, face and neck. Leave the mask to act for 30-35 minutes until a film is formed. Remove it by dry rubbing. If you wish you may wash the face with cool water.
No contraindications and side effects.